Software ตัวนี้ช่วยในการรวมแผ่นหนัง VCD ประมาณ 8 แผ่น ให้อยู่ใน DVD 1 แผ่นครับ พร้อมด้วย menu ในการเลือกชมหนังแต่ละเรื่องได้ด้วย ใช้งานง่ายไม่ยุ่งยาก ใครสนใจลองไปโหลดมาใช้ดูครับ ตัวนี้ไม่ฟรีแต่มีให้ทดลองใช้ 30 วัน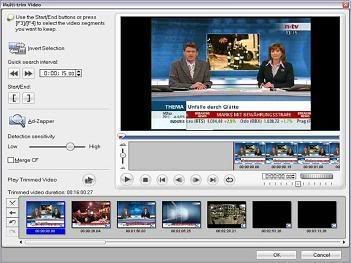 About Ulead DVD MovieFactory 5 : 
Ulead DVD MovieFactory 5 is easy-to-use disc authoring and burning software for today's digital lifestyle. Turn your standard or HD video and photos into DVDs with studio-quality personalized menus. Quickly trim and enhance video, and remove commercials from recorded TV programs. Share and preserve your precious memories on CD, DVD, HD DVD or Blu-ray Disc. Version 5.0 may include unspecified updates, enhancements, and bug fixes.